THE MODEL OF COMBATING BY ARTILLERY UNITS DURING FIRE SUPPORT DURING OFFENSIVE ACTIONS
Keywords:
analytical-stochastic models, Markov random processes, the system of differential equations of Chapman - Kolmogorov, artillery units, survivability, fire support, offensive actions
Abstract
The results of the analysis of the lessons learned from the conduct of hostilities by artillery units in the armed conflict in eastern Ukraine show that the issues of increasing the effectiveness of their conduct of hostilities and ensuring their viability are now relevant. On the basis of an analysis of the methods of ensuring the survivability of artillery units, it was determined that the main of them during the fighting were constant maneuvering when designating waiting areas (charging). It is also known that the conduct of combat operations by artillery units in the offensive constitutes the continuous fire support of the units.
Thus, in the theory and practice of combat actions by artillery units, there have being a contradiction in the offensive between the need to increase the time spent in firing positions depending on the level of firepower required to provide continuous fire support to active units on the one hand, and the requirement to reduce that time necessary maneuver to ensure the survivability of the artillery units on the other hand.
The purpose of the article is to develop a model of combat actions of artillery units during fire support in offensive actions, taking into account their constant maneuvering to ensure survivability and stay in the charging (waiting) area.
The article describes the model of combat operations by artillery units supported by fire in offensive actions. The model is stochastic and analytical and describes the probability of artillery combat offensive actions with fire support during offensive actions using the theory of random processes with a finite set of successive permanent changes in their functional states due to the influence of environmental factors and control factors under the conditions of possible hostile fire, provided such elements are available on the order of as waiting (charging) areas. The proposed combat actions model can be used to find cause-effect relationships between the components of such processes and to substantiate recommendations for ensuring the survivability of artillery units with fire support in offensive actions
References
Репіло Ю. Є., Головченко О. В. Невідповідності у поглядах на підготовку та ведення бойових дій артилерійськими підрозділами в контрнаступальній операції та можливі шляхи їх усунення. Труди університету: зб. наук. пр. Київ: НУОУ імені Івана Черняховського, 2021. Вип. 1 (164). С. 97–105.
FM 3-09 Fire Support and Field Artillery Operations. URL: https://cutt.ly/7zKWF1u.
STANAG 2484 AARTYP-05 Ed B, NATO Fire Support Doctrine: 05 November 2015.
Reference Guide Joint Fire Support Handbook for planning & co-ordination Ed 3.2. URL:https://www.academia.edu/36429094/REFERENCE_GUIDE_JOINT_FIRE_SUPPORT_Handbook_for_planning_and_co_ordination.
Головченко О. В. Здобуті уроки способів забезпечення живучості артилерійських підрозділів у ході антитерористичної операції (операції Об'єднаних сил). Українське військо: сучасність та історична ретроспектива: зб. матеріалів I міжнар. наук.-практ. конф. (м. Київ, 27 лист. 2020 р.). Київ: НУОУ, 2020. С. 27. URL: https://nuou.org.ua/nauka/confi/mnpk1-uv-2020.html.
Абчук В. А., Матвейчук Ф. А., Томашевський Л. П. Справочник по исследованию операций / под общ. ред. проф. Ю. В. Чуева. Москва: Сов. радио, 1965. 592 с.
Боровков А. А. Вероятностные процессы в теории массового обслуживания. Москва: Наука, 1972. 428 c.
Вентцель Е. С. Теория вероятностей: учебник для вузов. 3-е изд., испр. Москва: Наука, 1964.  576 с.
Панченко Н. Г., Резуненко М. Є. Елементи дослідження операцій в управлінні процесами перевезень: підручник: у 2 ч. Харків: УкрДУЗТ, 2015. Ч. 2. 314 с.
Guzik, Dennis M. A Markov model for measuring artillery fire support effectiveness (Monterey, Сalifornia : Postgraduate School, 1988). URL: https://hdl.handle.net/10945/23070
Гогонянц С. Ю., Поліщук С. В. Модель радіолокаційного забезпечення бойових дій угруповання сил і засобів протиповітряної оборони в операціях. Система обробки інформації. Харків : ХНУПС імені Івана Кожедуба, 2016. № 3 (140). С. 126–130. URL: http://www.hups.mil.gov.ua/periodic-app/article/16464
Гогонянц С. Ю., Поліщук С. В. Обґрунтування інтенсивностей зміни функціональних станів мобільного радіолокаційного комплексу. Наука і техніка Повітряних Сил Збройних Сил України. Харків : ХНУПС імені Івана Кожедуба, 2016. № 3 (24). С. 90–92. URL: http://www.hups.mil.gov.ua/periodic-app/article/17183.
Грабчак В. І., Супрун В. М., Заскока А. М., Сокіл Б. І. Аналітична модель ураження артилерійської батареї противника з урахуванням своєчасності її виявлення. Військово-технічний збірник. Львів : АСВ імені Петра Сагайдачного, 2013. № 9. С. 73–80. doi.org/10.33577/2312-4458.9.2013.73-80 .
Приміренко В. М. Обґрунтування рекомендацій щодо підвищення ефективності бойового застосування військових частин ракетних військ у сучасних операціях : дис. … канд. військ. наук : 20.01.01. Київ, 2017. 147 с.
Адаменко М. В., Заболотний О. А. Математична модель функціонування органів радіолокаційної розвідки РВіА. Збірник наукових праць Центру воєнно-стратегічних досліджень Національного університету оборони України імені Івана Черняховського. Київ : НУОУ імені Івана Черняховського. 2018. № 1 (62). С. 107–112. doi.org/10.33099/2304-2745/2018-1-62/107-112 .
Golovchenko O. Content-analysis of trends of waging warfare by the army of the armed forces of the Russian Federation. Sciences of Europe. 2020. Vol. 2, No. 58. С. 54–61. URL: https://www.europe-science.com/archive/
Розвідувально-ударні, розвідувально-вогневі комплекси (принципи побудови в умовах реалізації концепції мережецентричних війн, оцінка ефективності бойового застосування) : монографія / [В. М. Тарасов, Р. І. Тимошенко, О. М. Загорка] ; за заг. ред. В. М. Телелима. Київ : НУОУ ім. Івана Черняховського, 2015. 184 с.
Збірник нормативів з бойової підготовки для спеціалістів і підрозділів артилерії: затв. наказом Генерального штабу ЗС України від 03.01.2020 № 5. Київ: ГШ ЗС України, 2020. 127 с.
Правила стрільби і управління вогнем наземної артилерії (дивізіон, батарея, взвод, гармата): затв. наказом Генерального штабу ЗС України від 05.01.2018 № 6. Київ: ГШ ЗС України, 2018. 268 с.
Посібник з вивчення правил стрільби і управління вогнем наземної артилерії (дивізіон, батарея, взвод, гармата): затв. наказом Генерального штабу ЗС України від 03.09.2018 № 532. Київ: КСВ ЗС України, 2018. 278 с.
Курс підготовки артилерії Збройних Сил України (бригада, дивізіон, батарея, взвод, гармата) : затв. наказом Генерального штабу ЗС України від 11.03.2020 № 97. Київ: ГШ ЗС України, 2020. 226 с.
Правила стрельбы и управления огнем артиллерии. Ч. I. Москва: Воениздат, 2011. 292 с.
Пособие по изучению правил стрельбы и управления огнем артиллерии. Ч. I.: Дивизион, батарея, взвод, орудие. Москва: Воениздат, 2011. 354 с.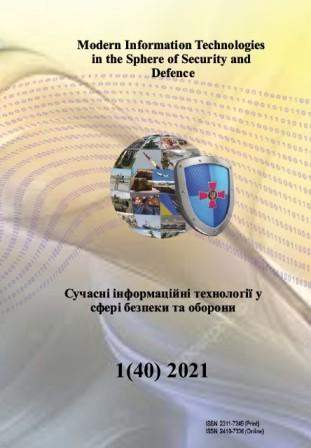 Downloads
Published
2021-05-28 — Updated on 2021-06-09
Section
High-tech aspects of martial arts
License
Authors who publish with this journal agree to the following terms:
1. Authors retain copyright and grant the journal right of first publication with the work simultaneously licensed under a Creative Commons Attribution License that allows others to share the work with an acknowledgement of the work's authorship and initial publication in this journal.
2. Authors are able to enter into separate, additional contractual arrangements for the non-exclusive distribution of the journal's published version of the work (e.g., post it to an institutional repository or publish it in a book), with an acknowledgement of its initial publication in this journal.
3. Authors are permitted and encouraged to post their work online (e.g., in institutional repositories or on their website) prior to and during the submission process, as it can lead to productive exchanges, as well as earlier and greater citation of published work (See The Effect of Open Access).
4. Personal data and metadata contained in articles are available for storage and processing in various databases and information systems, including them in analytical and statistical reports, creating reasonable relationships of scientific , literary and art objects with personal data, etc. on an area which is not limited.