METHODS FOR ANTI-ENTRY VIRUS IN INFORMATION SYSTEMS
Keywords:
ransomware virus, cyberattack, cyber defense, Cyber Kill Chain, information system
Abstract
The article proposes an algorithm for the actions of the system administrator to counteract attempts at unauthorized encryption of information in information systems.The relevance of the development of such measures is that the number of ransomware attacks reaches 30 percent of the total number of cyber incidents in the world. Massive attacks occur every six months, and penetration techniques and encryption algorithms are constantly improving. According to the Cyber-Kill Chain model, attackers successfully achieve their goal on the target machine.The purpose of measures to neutralize unauthorized encryption of information in the system is to block its action at the beginning of work.The authors propose to deploy in advance in information systems software samples that will allow timely identification of signs of the beginning of unauthorized encryption of information in systems.The measures provide for the advance placement in systems of samples of special software that are able to implement "constant program monitoring" of processes in the system, stop the processor when signs of encryption are detected, namely: when the processor is overloaded, when suspicious processes are detected, when signs of the encryption algorithm are detected when important files disappear simultaneously, when an unauthorized system reboot is attempted, and other signs. The authors compare the cyber defense of systems without and with the proposed measures. The authors believe that the cyber defense of systems will increase to 0.99 depending on the effectiveness of the measures involved.The conclusion of the article is that the advance placement of specialized software in systems will allow timely blocking of the ransomware virus and increase the security of systems.Further directions of research will allow the dissemination of the proposed measures to neutralize the actions of various classes of cyber attacks, which were achieved according to the Cyber-Kill Chain model of the target machine.
References
Расширенная модель Cyber-Kill Chain и почему ее надо учитывать в стратегии защиты [Електронний ресурс]. https://habr.com/ru/company/panda/blog/327488/
Новое время "Захисти себе сам. Все що потрібно знати про вірус Petya.A" [Електронний ресурс]. – https://nv.ua/ukr/techno/gadgets/zahisti-sebe-sam-vse-shcho-potribno-znati-pro-virus-petya-a-1392163.html
Vesti Ukraine "Все что известно о вирусе WannaCry и Petya.A" [Електронний ресурс]. https://vesti.ua/mir/244843-vse-chto-izvestno-o-viruse-wannacry-i-
Tech today "Все что нужно знать о вирусе Petya и как с ним бороться" [Електронний ресурс]. https://techtoday.in.ua/ru/reviews-ru/vse-chto-nuzhno-znat-o-viruse-petya-kak-s-nim-borotsya-75861.html
Котенко И.В. Оценка рисков в компьютерных сетях критических инфраструктур / И.В. Котенко , И.Б. Саенко, Е.В. Дойникова // Инновации в науке: зб. наук. пр. / XVI міжнар. наук.-практ. конф. Частина I. – Новосибірськ: СибАК, 2013. Вип.№16-1. С. 84 – 88.
Давидюк А.В. Протидія автоматизованим засобам використання соціальної інженерії / А.В. Давидюк, В.М. Петрик // Актуальні проблеми управління інформаційною безпекою держави: зб. тез наук. доп. наук.-практ. конф. (Київ, 30 березня 2018 р.) [Електронне видання]. – К.: Нац. акад. СБУ, 2018. С. 346 – 347.
Korchenko A., Dreis Yu., Roshchuk M., Romanenko O. Consequence evaluation model of leak the state secret from cyberattack directing on critical information infrastructure of the state // Ukrainian Scientific Journal of Information Security, 2018, vol. 24, issue 1, Р. 29-35.
Шевченко А.С. Механізми виявлення кібернетичних атак на основі контрольних карт Шухарта/ А.С. Шевченко // Актуальні проблеми управління інформаційною безпекою держави: зб. тез наук. доп. наук.-практ. конф. (Київ, 30 березня 2018 р.) [Електронне видання]. – К.: Нац. акад. СБУ, 2018. С. 186 – 189.
Новий небезпечний вірус-шифрувальник. Молодий буковинець https://molbuk.ua/news/201684-fakhivci-znayshly-novyy-nebezpechnyy-virus-shyfruvalnyk.html
Рекомендації до знищення наслідків дії вірусу Petya.A – "Новинарня". Вірус шифрувальник., CERT – Режим доступу: https://novynarnia.com/2018/11/17/cert-ua.html.
Куцаєв В.В. Радченко М.М. Методика оцінки кібернетичної захищеності інформаційно-телекомунікаційного вузла. Збірник наукових праць ВІТІ. Київ, 2018. Вип. №2.
Куцаєв В.В., Козубцов І.М. Експертні оцінки захищеності систем методом Сааті. Збірник наукових праць ВІТІ. Київ, 2017. Вип. №3.
Чередніченко О.М., Куцаєв В.В., Гук О.М., Шугалій О.О. Аналіз кібернетичних інцидентів на території України та базові методи кібернетичного захисту від них. Збірник наукових праць ВІТІ. Київ, 2018. Вип. №3.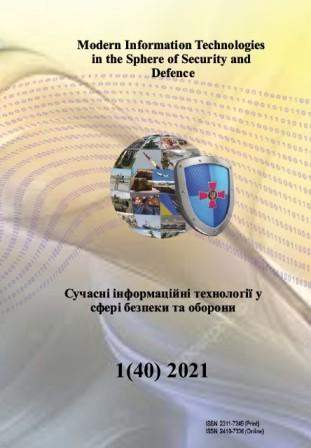 Downloads
Published
2021-05-28 — Updated on 2021-06-09
Section
Military cybernetics and system analysis
License
Authors who publish with this journal agree to the following terms:
1. Authors retain copyright and grant the journal right of first publication with the work simultaneously licensed under a Creative Commons Attribution License that allows others to share the work with an acknowledgement of the work's authorship and initial publication in this journal.
2. Authors are able to enter into separate, additional contractual arrangements for the non-exclusive distribution of the journal's published version of the work (e.g., post it to an institutional repository or publish it in a book), with an acknowledgement of its initial publication in this journal.
3. Authors are permitted and encouraged to post their work online (e.g., in institutional repositories or on their website) prior to and during the submission process, as it can lead to productive exchanges, as well as earlier and greater citation of published work (See The Effect of Open Access).
4. Personal data and metadata contained in articles are available for storage and processing in various databases and information systems, including them in analytical and statistical reports, creating reasonable relationships of scientific , literary and art objects with personal data, etc. on an area which is not limited.