Analysis of methods of increasing visibility telecommunications networks
Keywords:
analysis of methods to increase survivability, survivability of the communication system, radio relay and tropospheric communication
Abstract
The development of telecommunication technologies, including radio relay and tropospheric technologies, raises the problem of increasing the stability of networks in connection with the constant increase in requirements for the quality of their operation. Particular attention in our time, given the experience of environmental protection, is growing need to improve methods of prevention and neutralization of negative impacts on telecommunications networks, which in our time are constantly improving and occur in forms that previously did not exist. The number of cases of negative effects on telecommunications networks that harm not only the physical structure of the network, but also logical, which, in turn, requires consideration of assessing the increase in survivability not only in terms of structural survivability, but also in terms of software performance of heterogeneous traffic management. Additionally, you need to pay attention to the security of connections and the transmission of information on them.
The purpose of this article is to analyze the most relevant methods and techniques to ensure and increase the required level of survivability and narrow the scope of research to further optimize or find a better combination of methods or create improved methods to improve efficiency in solving problems related to ensuring the required level of telecommunications networks. and systems.
In the study of survivability, it is possible to use a number of different theoretical approaches and, thus, the use of different methods of analysis: game-theoretic, probabilistic, deterministic, graph-analytical. Probabilistic and deterministic approaches are the most developed for technical purposes, and therefore are promising for improvement and optimization.
References
ДСТУ В3265–95 "Зв'язок військовий. Терміни та визначення".
ВСТ 01.112.001-2006. "Військовий звязок. Терміни та визначення".
Думітраш В., Бондаренко О., Думітраш О., Гетьман А. Аналіз напрямків розвитку систем радіозв'язку НАТО URL: https://www.ukrmilitary.com/2020/08/signal.html.
Величко В. В., Попков Г. В., Попков В. К.. Модели и методы повышения живучести современных систем связи — М.: Горячая линия-Телеком, 2017. — 270 с.
Додонов А.Г. Живучесть информационных систем / А.Г. Додонов, Д.В. Ландэ. – К.: Наук. думка, 2011. – 256 с.
Грищенко И. В. Метод повышения живучести инфокоммуникационной сети / И. В. Грищенко // Холодильна техніка і технологія. - Одеса, ННІХКтаЕ, 2013. - №6. (146). – С. 66–70.
Князева Н. О. Метод обеспечения живучести телекоммуникационной сети на основе перераспределения ресурсов сети [Текст] / Н. О. Князева, И. В. Грищенко, С. В. Шестопалов // Холодильная техника и технология. Одеса, ННІХКтаЕ, 2014. - №4. (150). – С. 65–71.
Масесов М.О., Бондаренко Л.О., Садиков О.І., Макарчук В.І. Методика оцінки стійкості системи військового зв'язку. Збірник наукових праць ВІТІ. – 2016. – 5 С. 94-102.
Воротніков В.В., Бойченко О.С., Гринєвич Є.О. Методика підвищення живучості інформаційно-комунікаційної мережі. Системи обробки інформації. — 2017. — № 5(151). С. 69-75.
Буроменский Н.Г. Живучесть системы военной связи: проблемы и пути решения. Вооружение и экономика. -2014 № 4 (29) С. 54-59.
Зацаринный А. А., Буроменский Н. Г., Гаранин А. И. Системы и средства информ., 23:2 (2013), 154–169.
Степаненко Є.О. Інтерв'ю інформагенству Укрінформ 27.04.2021 URL: https://armyinform.com.ua/2021/04/systemy-zvyazku-yaki-my-zakupovuyemo-suttyevo-krashhi-anizh-ti-yaki-rosiyany-vyroblyayut-u-sebe/.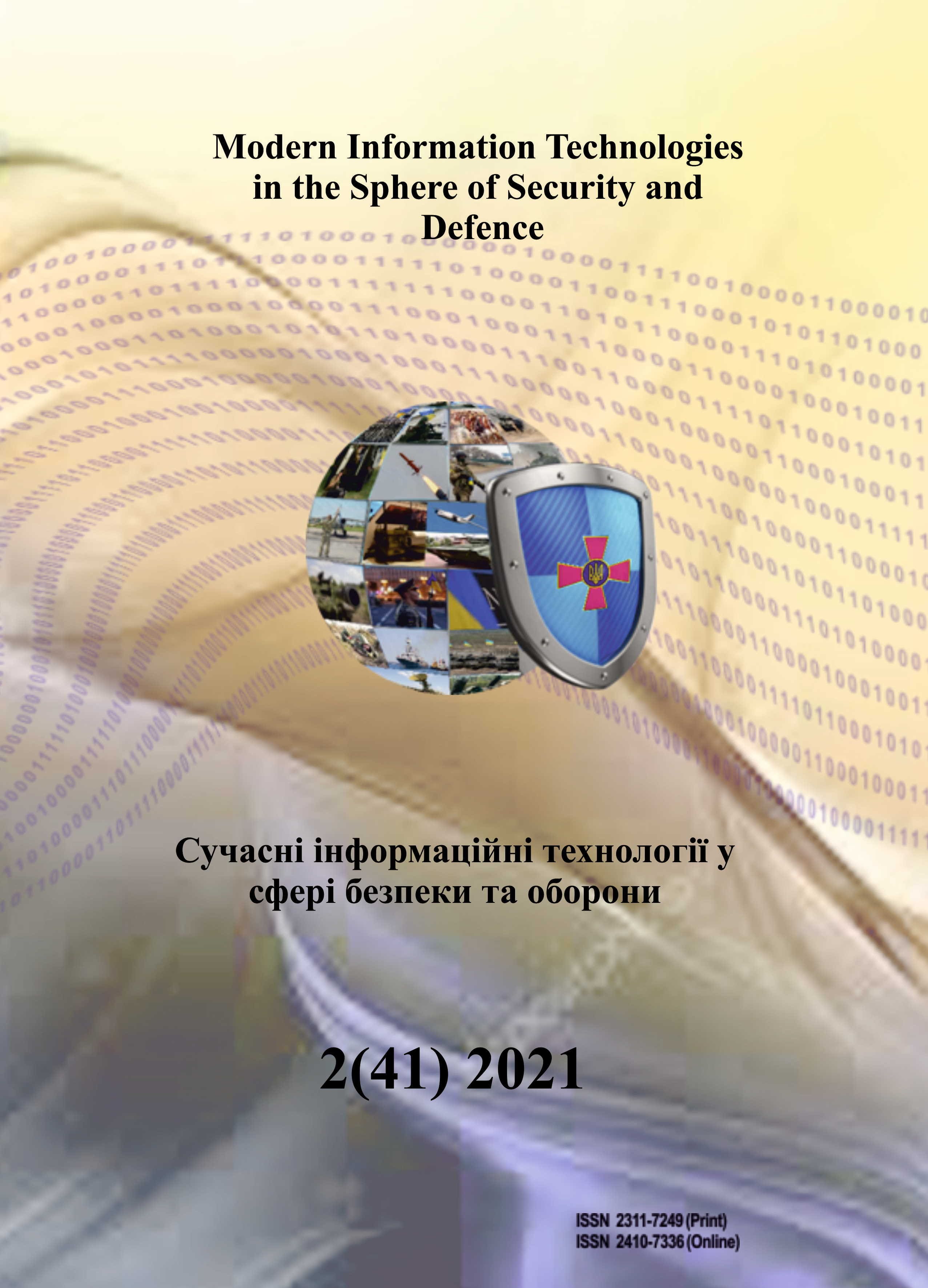 Downloads
Published
2021-09-30 — Updated on 2021-09-30
Section
Military cybernetics and system analysis
License
Authors who publish with this journal agree to the following terms:
1. Authors retain copyright and grant the journal right of first publication with the work simultaneously licensed under a Creative Commons Attribution License that allows others to share the work with an acknowledgement of the work's authorship and initial publication in this journal.
2. Authors are able to enter into separate, additional contractual arrangements for the non-exclusive distribution of the journal's published version of the work (e.g., post it to an institutional repository or publish it in a book), with an acknowledgement of its initial publication in this journal.
3. Authors are permitted and encouraged to post their work online (e.g., in institutional repositories or on their website) prior to and during the submission process, as it can lead to productive exchanges, as well as earlier and greater citation of published work (See The Effect of Open Access).
4. Personal data and metadata contained in articles are available for storage and processing in various databases and information systems, including them in analytical and statistical reports, creating reasonable relationships of scientific , literary and art objects with personal data, etc. on an area which is not limited.