MATHEMATICAL FORMALIZATION OF INFLUENCE OF COMBAT APLICATION OF LONG-TERM MEANS OF DAMAGE ON ACHIEVEMENT OF FIRE ADVANTAGE OVER THE ENEMY
Keywords:
fire superiority, combat effectiveness, fire capabilities, , long-range means of destruction, missile system, launcher
Abstract
The results of the analysis of local wars and modern armed conflicts show a steady trend, in the armies of the world's leading countries, to achieve success in hostilities by increasing the share of long-range weapons in enemy fire in hostilities. In such actions, all-military formations perform the function of completing the defeat of the enemy. This, in turn, has led to the modernization of existing and development of new long-range weapons in terms of increasing the range of fire and rate of fire, which is the basis of reconnaissance and strike combat platforms of all-military units (forces). In countries that are limited in their capabilities for the rapid development of long-range weapons by increasing the fire tasks of units capable of long-range fire damage to the enemy is the justification of appropriate scientific and organizational decisions, the implementation of which will achieve the desired effect of combat use of such units. In the article, depending on the probability of achieving a fire advantage over the enemy on the degree of realization of fire capabilities involved in the fire defeat of the enemy fire means substantiated ways to increase the degree of fire capabilities of units armed with long-range weapons. According to the results of the study, a set of indicators of the effectiveness of combat use of units armed with long-range weapons was further developed. The proposed efficiency indicators, in contrast to the existing ones, make it possible to establish the dependence of the probability of achieving a fire advantage over the enemy on the effectiveness of combat use of these units and to justify possible ways to increase the effectiveness of their use.
References
Белесков М. М. Сучасний російський спосіб ведення війни: теоретичні основи і практичне наповнення : аналіт. доп. – К. : НІСД, 2021. – 29 с.
Raytheon DeepStrike Missile. URL: https://www.army-technology.com/projects/raytheon-deepstrike-missile/
Scott Boston, Dara Massicot. The Russian Way of Warfare. Rand Corporation, 2017. – Р. 9.
«Глубокий удар» ракетной артиллерии. URL: https://warspot.ru/9285-glubokiy-udar-raketnoy-artillerii
Jack Watling. The Future of Fires. Maximising the UK's Tactical and Operational Firepower. RUSI Occasional Paper, November 2019. 62 р.
Michael Sterling, Soviet Reactions to NATO's Emerging Technologies for Deep Attack. Santa Monica, CA: RAND, august 1985. 40 p.
Стратегія воєнної безпеки України. Воєнна безпека – всеохоплююча оборона : затверджена указом Президента України від 25 березня 2021 року №121/2021.
Peter B. Doran. Land Warfare in Europe. Lessons and Recommendations from the War in Ukraine. CEPA. November 2016. 13 p.
Майстренко О. В., Стужук П. І., Приміренко В. М., Адаменко М. В. Аналіз підходів до визначення можливостей формувань ракетних військ і артилерії. Збірник наукових праць Національної академії Державної прикордонної служби України. Серія: військові та технічні науки. Хмельницький, 2015. №3 (65). С. 149–163.
Andrew Hunter, Rhys McCormick, The Army Modernization Imperative. A New Big Five for the Twenty-First Century. May 2017, 80 p.
Розвідувально-ударні, розвідувально-вогневі комплекси (принципи побудови, оцінка ефективності бойового застосування): Монографія / [В.М. Тарасов, Р.І. Тимошенко, О.М. Загорка]. – К.: НУОУ, 2015. – 177 с.
Приміренко В. М. Обґрунтування рекомендацій щодо визначення оптимальної кількості хибних пускових установок розміщених на позиціях у складі військового формування ракетних військ. Сучасні інформаційні технології у сфері безпеки та оборони. Київ, 2016. № 1 (25). С. 92–96.
Стракович О.А., Гремчук М.С., Касинский В.А. Взаимодействие сил и средств разведки и огневого поражения в бою. Вестник военной академии Республики Беларусь. Минск, 2014. №1 (42). С. 16.
Бойове застосування підрозділів ракетних військ : підручник. / Р. В. Бондар та ін. Львів : НАСВ, 2020. 269 с.
Шлейко М. Е. Методы оценки эффективности огневого поражения противника в операции (бою). Вестник КазНУ. Сер. мат., мех., инф. Казань, 2009. № 4(63). С. 45–51.
Выбить залпом: реактивные установки «Торнадо-С» получили новые ракеты. URL: https://iz.ru/1053571/roman-kretcul-aleksei-ramm/vybit-zalpom-reaktivnye-ustanovki-tornado-s-poluchili-novye-rakety.
Оперативно-тактический ракетный комплекс 9К720 "Искандер" (НАТО: SS-26 Stone). URL: https://vpk.name/library/f/iskander.html
Ліпський А., Трофімов І. Планування проти вогневого маневру артилерії та переміщення її в ході бою. Актуальні питання розвитку ракетних військ і артилерії за досвідом ведення антитерористичної операції (операції Об'єднаних сил : матеріали наук.-практ. сем., м. Київ, 26 листопада 2020 р. Київ, 2020. С. 34–40.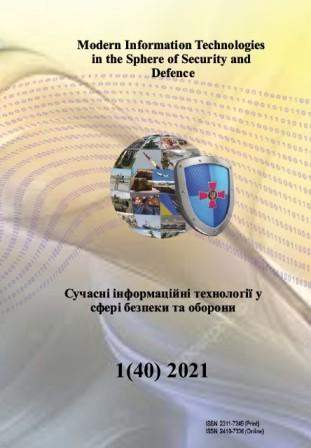 Downloads
Published
2021-05-28 — Updated on 2021-06-09
Section
High-tech aspects of martial arts
License
Authors who publish with this journal agree to the following terms:
1. Authors retain copyright and grant the journal right of first publication with the work simultaneously licensed under a Creative Commons Attribution License that allows others to share the work with an acknowledgement of the work's authorship and initial publication in this journal.
2. Authors are able to enter into separate, additional contractual arrangements for the non-exclusive distribution of the journal's published version of the work (e.g., post it to an institutional repository or publish it in a book), with an acknowledgement of its initial publication in this journal.
3. Authors are permitted and encouraged to post their work online (e.g., in institutional repositories or on their website) prior to and during the submission process, as it can lead to productive exchanges, as well as earlier and greater citation of published work (See The Effect of Open Access).
4. Personal data and metadata contained in articles are available for storage and processing in various databases and information systems, including them in analytical and statistical reports, creating reasonable relationships of scientific , literary and art objects with personal data, etc. on an area which is not limited.