MATHEMATICAL MODEL OF AUTOMATED COMMAND AND CONTROL IN AUTOMATED COMMAND AND CONTROL SYSTEM SIMILAR TO C4ISR
Keywords:
command and control theories, automated command and control system, object of command and control, mathematical model, command and control cycle, means of automated command and control, C4ISR
Abstract
The article is devoted to the development of a mathematical model of automated command and control (C2) in the automated C2 system similar to C4ISR based on provisions of command and control theory.
In accordance with the course for Ukraine's Euro-Atlantic integration, a number of state documents identify one of the priorities of defence reform as the development of a unified automated command and control system of the Armed Forces of Ukraine (UASU) as a basis for C2 of the state defence forces, based on C4ISR projects decisions and NATO standards. However, despite this, its status, for some reason, does not meet the requirements for this system.
One of the reasons is the underdevelopment of an existing methodology used to model the process of C2. First of all, this concerns the lack of a single mathematical model of automated C2 in the UASU similar to C4ISR, which directly affects the development and compliance with a unified ideology to justify the requirements for this system.
To achieve the goal of the article, its authors presented the UASU similar to C4ISR as a cybernetic system that provides automated C2 based on certain command principles, classification features and basic functions inherent in these systems in countries of NATO.
Accordingly, a mathematical model of the process of automated C2 was developed, which takes into account the sequence of the C2 cycle and allows to research the impact of each of the means of automated C2 on the C2 process taking into account data on a given task, Enemy Manning&Table of Equipment as well as Enemy actions.
In order to ensure a unified ideology, the model should become an analytical and simulation basis for the development of the theory to substantiate the requirements for UASU prototype, which is a potential area of further research.
References
Макаренко С. И., Иванов М. С. Сетецентрическая война – принципы, технологии, примеры и перспективы: моногр. Санкт-Петербург: Наукоёмкие технологии, 2018. 898 с.
Попов И. М., Хамзатов М. М. Война будущего: концептуальные основы и практические выводы. Очерки стратегической мысли. Москва: Кучково поле, 2016. 832 с.
Паршин С., Кожанов Ю. Концепции сетецентрического боевого управления ВС США, Великобритании и ОВС НАТО. Общее и различия // Зарубежное военное обозрение. 2010. № 4. С. 7–18.
Україна. Президент (2014–2019; П. О. Порошенко). Про рішення Ради національної безпеки і оборони України від 20 травня 2016 року "Про Стратегічний оборонний бюлетень Україниˮ: Указ Президента України від 06.06.2016 № 240/2016. Київ: АПУ, 2016. 61 с.
Концепція відомчих програм створення Єдиної автоматизованої системи управління Збройних Сил України, єдиної інформаційної системи управління оборонними ресурсами та інформаційної інфраструктури до 2020 року: затв. Міністром оборони України 12.05.2018. Київ. 2018. 13 с.
Гусак Ю. А., Кірсанов С. О., Островський С. М. Математична модель процесу управління військами у просторі станів // Зб. наук. пр. ЦНДІ ЗС України. 2021. № 1 (96). С.18–30.
Кондратьев А. Е. Общая характеристика сетевых архитектур, применяемых при реализации перспективных сетецентрических концепций ведущих зарубежных стран // Военная мысль. 2008. № 12. С. 63–74.
Кірсанов С. О., Азаревич В. О., Манько О. О. Один із поглядів на зміст та послідовність проведення досліджень щодо обґрунтування оперативно-тактичних вимог до складової єдиної автоматизованої системи управління Збройних Сил України // Зб. наук. пр. ЦНДІ ЗС України. 2011. № 3 (57). С. 221–236.
Островський С. М. Обґрунтування вимог до системи управління оперативного угруповання військ: дис. … канд. військ. наук: 20.02.12 / Островський Сергій Миколайович. Київ. 2019. 187 с.
Кірсанов С. О., Островський С. Методичний підхід до оцінювання рівня автоматизації роботи органів управління // Сучасні інформаційні технології у сфері безпеки та оборони. 2018. № 3 (33). С. 77–80.
Звіт про результати досліджень в ході стратегічного командно-штабного навчання з органами військового управління, військами (силами) ЗС України, іншими складовими сил оборони України "Козацька воля – 2018" (в період з 25 по 29 вер. 2018 р.). Київ: ЦНДІ ЗС України, 2018. 107 с.
Ткачук П. П., Бударецький Ю. І., Щавінський Ю. В., Прокопенко В. В. Вплив засобів автоматизації управління підрозділами і вогнем артилерії на ефективність її застосування // Військово-технічний збірник. 2015. № 12. С. 75–82.
Огарков Н.В. Советская Военная Энциклопедия. В 8 т. / пред. гл. ред. комиссии Н. В. Огарков. Москва: Воениздат, 1976–1980. С. 203–204.
Алтухов П.К Основы теории управления войсками / под ред. П. К. Алтухова. Москва: Воениздат, 1984. 221 с.
Рябчук В.Д. Автоматизация управления войсками / под ред. засл. деятеля науки РСФСР, докт. воен. наук, профессора, генерал-майора В. Д. Рябчука. Москва: Военное изд-во, 1984. С. 39–40.
Тараканов К. В., Овчаров Л. А., Тырышкин А. Н. Аналитические методы исследования систем. Москва: Советское радио, 1974. 240 с.
Советская Военная Энциклопедия. В 8 т. / пред. гл. ред. комиссии А. А. Гречко. Москва: Воениздат, 1976. Т. 1. А – Бюро. С. 81.
Красовский А.А. Справочник по теории автоматического управления / под ред. А. А. Красовского. Москва: Ордена трудового Красного Знамени изд-во "Наука".
Сулин Л.И Автоматизированные системы управления войсками и автоматизированные системы связи / под ред. Л. И. Сулина. Москва: Военное изд-во, 1991. 408 с.
Сидорин А. Н., Прищепов В. М., Акуленко В. П. Вооружённые силы США в XXI веке: военно-теоретический труд. Москва: Кучково поле; Военная книга, 2013. 800 с.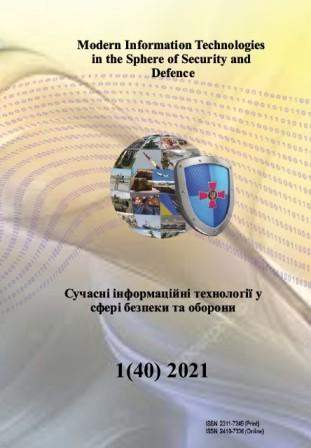 Downloads
Published
2021-05-28 — Updated on 2021-06-09
Section
Military cybernetics and system analysis
License
Authors who publish with this journal agree to the following terms:
1. Authors retain copyright and grant the journal right of first publication with the work simultaneously licensed under a Creative Commons Attribution License that allows others to share the work with an acknowledgement of the work's authorship and initial publication in this journal.
2. Authors are able to enter into separate, additional contractual arrangements for the non-exclusive distribution of the journal's published version of the work (e.g., post it to an institutional repository or publish it in a book), with an acknowledgement of its initial publication in this journal.
3. Authors are permitted and encouraged to post their work online (e.g., in institutional repositories or on their website) prior to and during the submission process, as it can lead to productive exchanges, as well as earlier and greater citation of published work (See The Effect of Open Access).
4. Personal data and metadata contained in articles are available for storage and processing in various databases and information systems, including them in analytical and statistical reports, creating reasonable relationships of scientific , literary and art objects with personal data, etc. on an area which is not limited.