THE INTELLECTUALIZATION MODEL OF TIME SCHEDULING FOR PERFORMING A TRAINING TASK IN A DISTANCE LEARNING SYSTEM
Keywords:
artificial Intelligence, intellectualization, automation, distance learning system
Abstract
The research in the field of artificial intelligence as a science that deals with the creation of intellectualized automatic systems was covered in the article. Aspects investigated technology of artificial intelligence systems, as well as revealed some approaches to their creation were researched. The place of intellectualization of administration of distance learning systems is indicated. The article deals with the prospects of artificial intelligence that is constantly transforming changes depending on emerging trends and challenges of today and about seeing the ways of its further development, approaches to study and functioning. Currently, promising areas within the constraints of the educational process are elements of intellectualization management and automation of certain components of educational systems in distance learning. Intellectualization of administration in the educational process will make it possible to automate a number of routine, typical tasks that require human resources and take a lot of time. One of them is the intellectualization model of time scheduling for performing a training task in a distance learning system. The article presents a model of intellectualization of this process. These are just the first steps towards creating a powerful artificial intelligence in the field of military education.
References
Романишин Ю., Функціональні аспекти адаптивності технологій дистанційного навчання. / Ю. Романишин, Л. Потеряйло // Міжнародна наукова конференція "Інформація, комунікація, суспільство" – 2018. – С. 287–288.
M. Kaplan, M. Haenlein, (2016), "Higher educaiotn and the digital revolution. vol.59. pp. 23-27
Автореф. дис. канд. техн. наук: 05.13.06 Автоматизована система управління та контролю знань в процесі навчання / Т.І. Коджа ; Одес. нац. політехн. ун-т. – О., 2003. – 20 с.: рис. – укp.
Автореф. дис. канд. техн. наук: 01.05.03 Дослідженніа методів побудови сервісно-орііентованих систем автоматизатсіі електронноhо навчанніа / Д.В. Холод ; Київ. нац. ун-т ім. Т.Шевченка. – К., 2007. – 20 с. – укp.
Пукас А.В. Інтелектуалізована система підтримки вивчення іт-дисциплін. / А.В. Пукас, М.П. Голембйовський // СІТ'2020, С. 11–12.
Заболоцький А.Ю. Модель використання системи підтримки e-learning длярозвитку ікт-компетентностей працівників центрів дистанційної освіти університетів / А.Ю. Заболоцький // Інформаційні технології і засоби навчання. – 2020, – №5, – С. 76–81.
Автореф. дис. канд. техн. наук: 05.13.06 Інформаційна технологія автоматизованого навчання та контролю знань в управлінні учбовим процесом / Є.Ю. Катаєва ; Черкас. держ. технол. ун-т. – Черкаси, 2004. – 18 с. – укp.
Автореф. дис... канд. техн. наук: 05.13.06 Інформаційна технологія побудови автоматизованої системи управління навчальним процесом / М.С. Антоник ; Держ. ком. зв'язку та інформатизації України; НАН України; Держ. НДІ інформ. інфраструктури. – Л., 2005. – 20 с.: рис. – укp.
Ткаченко О. Онтологічне моделювання процесів навчання / О. Ткаченко , К. Ткаченко К., М. Боняр // Міжнародна наукова конференція "ІТ-технології в освіті, мистецтві та культурі", – 2020, – С. 109–118.
Автореф. дис... канд. техн. наук: 01.05.03 Математичне та програмне забезпечення систем дистанційного мережевоцентричного навчання / Р.О. Голощук ; Нац. ун-т "Львів. політехніка". – Л., 2008. – 20 с. – укp.
Автореф. дис... канд. техн. наук: 05.13.06 Математичні моделі процесу інформаційного обміну в системах дистанційного навчання / Я.М. Степанова ; Наук.-вироб. корпор. "Київ. ін-т автоматики". – К., 2004. – 16 с. – укp.
Jung, I., Nishimura, M., & Sasao, T. (Eds.) (2016). Liberal arts education and colleges in East Asia: Possibilities and challenges in the global age, Springer. (pp. 27-37).
Кравченко Ю. В. Концепція структурування інформаційного ресурсу системи дистанційного навчання / Кравченко Ю. В., Оксіюк О. Г. // Сучасні інформаційні технології у сфері безпеки та оборони. – К. : 2009. – №1 (4). – С. 6–11.
Кравченко Ю.В. Концепція раціонального структурування знань у системі дистанційного навчання. Вища школа. 2015. – №4-5. – С. 76–86.
Kravchenko Y., Davidovitch N., Belichenko M. (2017), Information Resources Usage in Project Management Digital Learning System. Journal of Education and Learning. Published by Canadian Center of Science and Education. Vol. 6, No. 2. pp.146-154.
Bondarenko V., Kravchenko Y., Salkutsan, S., Tyshchenko M. (2020), Synthesis of the structure of multilevel hierarchical systems of increased survivability based on a subjective probability model. [ ], ATIT 2020 – Proceedings 2nd IEEE International Conference on Advanced Trends in Information Theory, pp. 138–142.
Kravchenko Y., Afanasyeva O.,Tyshchenko M., Mykus S. Intellectualisation of decision support systems for computer networks: Production-logical F-inference. CEUR Workshop Proceedings, 2021, vol. 2845, pp. 117–126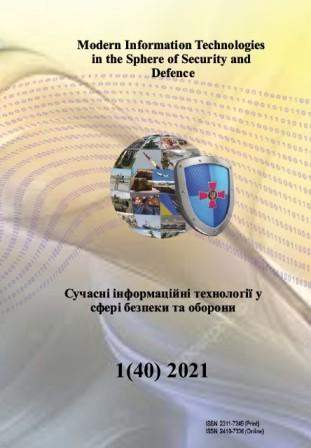 Downloads
Published
2021-05-28 — Updated on 2021-06-09
Section
Interactive Models of Scientific Educational Environment Development in the Sphere of Security and Defence
License
Authors who publish with this journal agree to the following terms:
1. Authors retain copyright and grant the journal right of first publication with the work simultaneously licensed under a Creative Commons Attribution License that allows others to share the work with an acknowledgement of the work's authorship and initial publication in this journal.
2. Authors are able to enter into separate, additional contractual arrangements for the non-exclusive distribution of the journal's published version of the work (e.g., post it to an institutional repository or publish it in a book), with an acknowledgement of its initial publication in this journal.
3. Authors are permitted and encouraged to post their work online (e.g., in institutional repositories or on their website) prior to and during the submission process, as it can lead to productive exchanges, as well as earlier and greater citation of published work (See The Effect of Open Access).
4. Personal data and metadata contained in articles are available for storage and processing in various databases and information systems, including them in analytical and statistical reports, creating reasonable relationships of scientific , literary and art objects with personal data, etc. on an area which is not limited.