MODEL AND METHOD OF INFORMATION FLOW MANAGEMENT IN THE TELECOMMUNICATIONS NETWORK OF THE TACTICAL LEVEL OF COMMAND
Keywords:
telecommunication network, information exchange, multi-way routing, traffic management, tactical level of command, tensor analysis of networks, network-centric principle, a single information field
Abstract
This article provides a review and analysis of trends in the development and application of the latest technologies and means of communication in the units of the tactical level of command of the Armed Forces of Ukraine. It is shown that the country is working on establishment of effective system of operational management, communication, intelligence and surveillance (C4ISR), which would meet NATO requirements. Technologically, as the basis for implementation of this system should be a  unified automated system of the Armed Forces of Ukraine. It is noted that the problematic issue is the need to develop new technological solutions for network resources management to ensure their balanced loading and guaranteed quality of service of heterogeneous traffics in such a system. The analysis of existing models of the solving of the basic network problems is carried out. It is shown that the tensor approach allows to solve the problems which appear during taking into account the interconnected and at the same time contradictory requirements occurring during heterogeneous traffic management in the military telecommunications network. A model and method of multi-path routing of control commands transmission between different nodes (elements) of the information and telecommunication network taking into account the streaming nature of traffic have been developed. The results of network calculations using the above mentioned developed model and method are presented. A comparative assessment of the developed model with the known existing ones has been carried out.
References
«Візія Генерального штабу ЗС України щодо розвитку Збройних Сил України на найближчі 10 років». URL: http://www.mil.gov.ua/news/2020/01/11/viziya-generalnogo-shtabu.
Указ Президента України №240/2016 Про рішення Ради національної безпеки і оборони України від 20 травня 2016 року "Про Стратегічний оборонний бюлетень України". URL: http://www.president.gov.ua/documents/2402016-20137.
Лаврут О.О., Лаврут Т.В., Климович О.К., Здоренко Ю.М. Новітні технології та засоби зв'язку у Збройних Силах України: шлях трансформації та перспективи розвитку. Наука і техніка Повітряних Сил Збройних Сил України. 2019. Вип. 1 (34). С. 91–101. DOI: 10.30748/nips.2019.34.13.
Лаврут О.О., Лаврут Т.В., Климович О.К. Перспективи розвитку автоматизованих систем управління тактичної ланки управління Сухопутних військ Збройних Сил України. Системи обробки інформації. 2014. Вип. 5 (121). С. 116-120.
Лаврут О.О., Климович К.О., Тарасюк М.Л., Антонюк О.Л. Стан та перспективи застосування сучасних технологій та засобів радіозв'язку в Збройних Силах України. Системи озброєння і військова техніка. 2017. Вип. 1(49). С. 42-49.
Бондаренко Л.О., Плугова О.Б., Цимбал І.В., Черниш Ю.О. Основні інноваційні напрямки розвитку системи зв'язку Збройних Сил України. Збірник наукових праць ВІТІ. 2016. Вип. 1. С. 19–24.
Основні тенденції та перспективи розвитку військового радіорелейного зв'язку. URL: http://www.ukrmilitary.com/2017/10/RRZ.html.
Пузиренко О.Г., Івко С.О., Лаврут О.О. Аналіз процесу управління ризиками інформаційної безпеки в забезпеченні живучості інформаційно-телекомунікаційних систем. Системи обробки інформації. 2014. Вип. 8 (124). С. 128-134.
Клейнрок Л. Вычислительные системы с очередями. М.: Мир, 1979. 600 с.
Бертсекас Д. Сети передачи данных / Д. Бертсекас, Р. Галлагер; пер. с англ. М.: Мир, 1989. 544 с.
Кучук Г.А. Інформаційні технології управління інтегральними потоками даних в інформаційно-телекомунікаційних мережах систем критичного призначення: монографія. Харків: ХУПС, 2013. 264 с.
Лемешко А.В., Євдокименко М.О. Вдосконалення потокової моделі маршрутизації в мультисервісній телекомунікаційній мережі із забезпеченням якості обслуговування. Системи озброєння і військова техніка. 2020. № 1(61). С. 31-43. DOI: 10.30748/soivt.2020.61.04.
Лемешко О.В., Євдокименко М.О., Єременко О.С. Оптимізаційна модель маршрутизації чутливого до затримок трафіка в інфокомунікаційних мережах. Системи управління, навігації та зв'язку. 2020, випуск 2(60). С. 152-159. DOI: 10.26906/SUNZ.2020.2.152.
Лаврут О.О. Дослідження якості управління потоками інформації у моделі військової телекомунікаційної мережі представленій в тензорному вигляді. Військово-технічний збірник. 2015. Вип. 12/2015. C. 27–33. DOI: https://doi.org/10.33577/2312-4458.12.2015.34-38.
Лемешко А.В., Евсеева О.Ю. Тензорная геометризация структурно-функционального представления телекоммуникационной системы в базисе межполюсных путей и внутренних разрезов. Наукові записки УНДІЗ. № 1(13). 2010. С. 14-26.
Кротов В.Д., Ткаченко А.Л., Науменко О.Г. Аналіз методів управління трафіком при забезпеченні QOS в мобільних радіомережах тактичної ланки управління. Збірник наукових праць ВІТІ. № 1. 2019. С. 49–56.
Misra S., Goswami S. Network Routing: Fundamentals, Applications, and Emerging Technologies 1st Edition. Hoboken: Wiley, 2017. 536 p.
Здоренко Ю.М., Фесьоха В.В., Лаврут О.О. Система виявлення аномалій трафіку в інформаційно-телекомунікаційних мережах. International scientific and practical conference «Prospects for the development of technical sciences in EU countries and Ukraine» Wloclawek, Republic of Poland, December 21-22, 2018. Wloclawek: Izdevnieciba «Baltija Publishing», 2018. P. 10-12.
Крон Г. Тензорный анализ сетей. М.: Сов. радио, 1978. 720 с.
Lemeshko O., Yeremenko O., Yevdokymenko М., Hailan Ahmad M. Tensor Multiflow Routing Model to Ensure the Guaranteed Quality of Service Based on Load Balancing in Network. The Third International Conference "Advances in Computer Science for Engineering and Education III (ICCSEEA 2020)". Kyiv, 21-22 January 2020. P. 1-12. DOI:10.1007/978-3-030-55506-1_11.
Лаврут О.О. Вибір критерію оцінювання якості управління потоками інформації у телекомунікаційній мережі мобільного компоненту перспективної системи зв'язку ЗС України. Наука і техніка Повітряних сил Збройних Сил України. 2014. Вип. 3 (16). С. 113-115.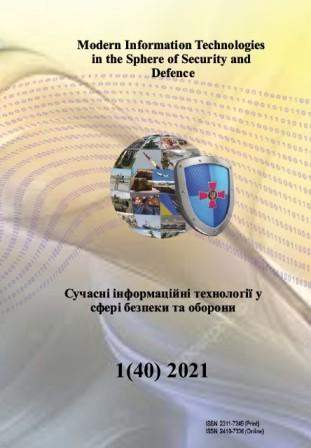 Downloads
Published
2021-05-28 — Updated on 2021-06-09
Section
Military cybernetics and system analysis
License
Authors who publish with this journal agree to the following terms:
1. Authors retain copyright and grant the journal right of first publication with the work simultaneously licensed under a Creative Commons Attribution License that allows others to share the work with an acknowledgement of the work's authorship and initial publication in this journal.
2. Authors are able to enter into separate, additional contractual arrangements for the non-exclusive distribution of the journal's published version of the work (e.g., post it to an institutional repository or publish it in a book), with an acknowledgement of its initial publication in this journal.
3. Authors are permitted and encouraged to post their work online (e.g., in institutional repositories or on their website) prior to and during the submission process, as it can lead to productive exchanges, as well as earlier and greater citation of published work (See The Effect of Open Access).
4. Personal data and metadata contained in articles are available for storage and processing in various databases and information systems, including them in analytical and statistical reports, creating reasonable relationships of scientific , literary and art objects with personal data, etc. on an area which is not limited.