APPROACHES TO THE SELECTION OF OPTIONS FOR BUILDING THE INFORMATION AND TELECOMMUNICATION SYSTEM FOR MILITARY PURPOSE
Keywords:
information and telecommunication system for military purposes, selection of the option for building a military information and telecommunications system, evaluation indicators
Abstract
At the present time, the most relevant issues are the assessment of the ITSVP when choosing the option of building the ITSVP at the stage of communication planning. Evaluation of ITS is not an end in itself, but serves as the basis for a quantitative substantiation of the decision to organize communications. This determines the urgency of the problem of choosing an option for building a military information and telecommunications system.
Complex systems (which also include the communication system), being in different conditions (situations, modes), reveal different system properties, including those incompatible with any of the situations separately. However, one cannot be neglected, since each characterizes some property of the phenomenon under study, and none of them can be accepted as the only one, since it does not express all its properties. The development of a formal apparatus for solving parametric problems of assessing the effectiveness of the functioning of a communication system provides for a systemic relationship of contradictory indicators.
Based on this, an improved methodology for choosing an option for constructing an information and telecommunications system for military purposes is proposed, which differs from the existing one in that the person who makes a decision to organize communications, from certain possible options, chooses a rational one through the use of methods of analyzing hierarchies and taxonomy.
References
DSTU V 3265-95 "Vyiskovy link. Terms and conditions ".
Viyskiy standard 01.112.001 - 2006. "Viyskiy zvyazok. Terms and conditions ".
Dischuk A. S. Analysis of the function of the folding system of the control system in telecommunications / A. S. Dischuk // Telecommunications and information technologies. - 2016. - №1. - S. 80-87.
Basarab O.K. The method of evaluating a complex imaging indicator of the effectiveness of the operational and service activity of the State borderline service of Ukraine / O.K. Basarab // Science technologies, 2013. No. 3 (19) - P. 263-267.
Voloshko S. V. Efficiency of function of the system and connection and automation and injection into the efficiency of management of the (forces) / S. V. Voloshko, M. O. Masesov // Current information technologies in the sphere of security and defense. - 2011. - No. 3 (12). - P. 9 - 12.
Karganov V.V. Indicator for assessing the effectiveness of communication systems and their elements / V.V. Karganov, A.G. Raschesova, V.A. Kudryashov Scientific and technical statements of the St. Petersburg State Polytechnic University. Informatics. Telecommunications. Control. – 2016/
Shevchenko V. O. Systemic approach to the breaking down of methodological foundations of pre-development telecommu- nication lines of high quality / V. O. Shevchenko // Science and defense. - 2004. - No. 4. - P. 42–46.
Elementi of the folding systems of the viscous designation / Zagorka OM, Mosov SP, Sbitnєv AI, Stuzhuk PI. - K .: NAOU, 2005 .-- 100s.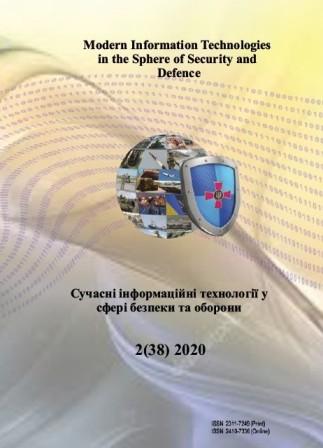 Downloads
Section
Military cybernetics and system analysis
License
Authors who publish with this journal agree to the following terms:
1. Authors retain copyright and grant the journal right of first publication with the work simultaneously licensed under a Creative Commons Attribution License that allows others to share the work with an acknowledgement of the work's authorship and initial publication in this journal.
2. Authors are able to enter into separate, additional contractual arrangements for the non-exclusive distribution of the journal's published version of the work (e.g., post it to an institutional repository or publish it in a book), with an acknowledgement of its initial publication in this journal.
3. Authors are permitted and encouraged to post their work online (e.g., in institutional repositories or on their website) prior to and during the submission process, as it can lead to productive exchanges, as well as earlier and greater citation of published work (See The Effect of Open Access).
4. Personal data and metadata contained in articles are available for storage and processing in various databases and information systems, including them in analytical and statistical reports, creating reasonable relationships of scientific , literary and art objects with personal data, etc. on an area which is not limited.